Board Certified, New York City Based, Osteopath Specializing in Spine, Pain and Sports Medicine
Knee pain is a pain or discomfort in the knee area. It is commonly caused by ligament sprain, torn cartilage, gout, infection, and arthritis – among other conditions. Often, it is the result of exercise and/or injury. Straightening the knee and walking or running can be strenuous and excruciating with knee pain.
What Are Common Causes Of Knee Pain?
Knee pain may come from areas of the knee such as the ligaments and tendons enveloping the knee, as well as those that make up the joint itself. Sprained knee is common among knee injuries, and is often caused by exercise and sport.
Other conditions that cause knee pain include:
Anterior Cruciate Ligament (ACL) Injury
Knee bursitis
Fractures
Dislocated Kneecap
Hip Conditions
Flat feet and Bunions
Arthritis
Excess Weight
Knee Discomfort Signs and Symptoms
Common signs and symptoms of knee pain include the following:
Redness
Swelling
Clicking or locking of the knee
Inability to straighten the knee or bear weight while standing
Pain or bluish discoloration in the calf
The risk of having knee pain can be increased by the following:
Obesity or drastic overweightness
Seldom exercise of the knee
Sports and physically arduous work-life
Previous injuries
What Is Included In An Effective Knee Pain Management Program?
Knee pain can be managed by a network of different treatment options, therapy exercises, and remedies. Ice packs make the healing process more efficient, especially when combined with the elevation of the knee. This Improves the swelling and therefore the pain.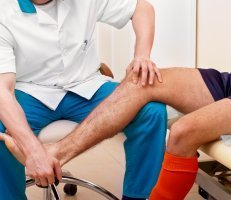 Some useful exercises include cardio and leg weight training, as well as routine stretching of the knee. Other therapeutic activities include swimming and water aerobics.
There are also pain management treatment options. These include injections that go directly into the joint. Intravenous substances used for these procedures include corticosteroids and hyaluronic acid.
When Is Knee Pain Considered Chronic?
Knee pain is considered chronic when it regularly occurs, and when it does not alleviate after the use of home remedies and exercises. In the case of chronic knee pain, you will need to consult a medical professional to solve the causal problem.
What If I Have Knee Pain?
There are a few home remedies you can try right away, including using an ice pack and elevating the knee. You can also, with caution, stretch and exercise it.
If your knee pain is more severe, see a pain specialist that knows all about the knees. Dr. Yasha Magyar is a double board-certified osteopathic doctor. He's Board Certified in physical medicine, rehabilitation and Board Certified in Pain Medicine to cover all your pain needs. Don't hesitate to contact Network Spine to help with your knee pain.
Request Your Appointment Today