Board Certified, New York City Based, Osteopath Specializing in Spine, Pain and Sports Medicine
Diagnostic Ultrasound Imaging
What is diagnostic ultrasound imaging?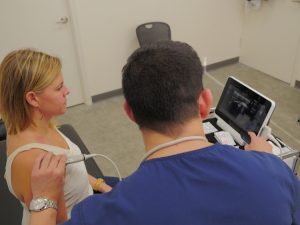 Diagnostic ultrasound imaging (Ultrasound) is a technique that may be used to diagnose or confirm a condition visually but also with treatments to help guide the practitioner in applying other therapies.  An ultrasound may also be used to assess joint inflammation for gel shots and to guide needles in applying trigger point injections. It is a widely used electro-physical instrument that is commonly used in clinical practice.
Why do I need it?
Diagnostic ultrasound imaging is used to help the practitioner diagnose a condition or guide efforts to treat a condition.
How does the machine work?
There is a small crystal inside the ultrasound machine that vibrates when it is activated by an electrical charge and creates waves. The waves are then emitted from the ultrasound head of the ultrasound machine and enters the area of your body where the ultrasound head is applied.
What can I expect at the appointment?
The practitioner will apply a small amount of gel to the area of your body where the ultrasound imaging is needed. The ultrasound head will be used to move the gel across the entire surface area. Your practitioner may use various setting options to control the penetration of the ultrasound waves.
Will I feel any pain with the procedure?
You will likely not feel any pain during with the use of the diagnostic ultrasound imaging equipment. There may be a little coldness from the gel when applied to the skin, but that soon goes away once it's warmed by your body heat.
Are there potential risks involved in ultrasound imaging?
Ultrasound imaging is safe and there are no known risks.
Request A Consultation Today